COACHING, COURSES, AND RETREATS
Hans Gruenig, Ph.D., is a dedicated teacher, consultant, and coach who helps people to explore life-enriching practices and paradigms that lead to personal growth, greater well being, less stress, and more connection, meaning, enjoyment, effectiveness, and fulfillment. He specializes in coaching and teaching practices such as:

* Executive Coaching for Effectiveness and Quality of Life
* Positive Psychology Practices for Greater Well Being
* Meditation and Mindfulness for Stress Reduction
* Transformative Thinking Techniques for Cognitive Balance and Clarity
* Effective Communication
* Practices for Creating Better Relationships

Dr. Gruenig is an experienced, professional guide who:

* Teaches and facilitates classes, workshops, and retreats locally and abroad;
* Counsels and coaches individuals based on their unique interests and needs;
* Provides consultation for organizations and businesses who value well being;
* Teaches university courses in Philosophy, Buddhism, and Positive Psychology.

If you wish to contact Dr. Gruenig about coaching or consulting, please email him using the contact link above.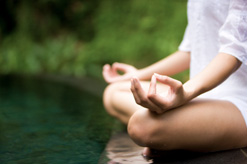 BACKGROUND
Dr. Gruenig has pursued complementary courses of studies both inside and outside of academia in the United States, Germany, and India.
Within academia he researched meditative, integral, and existential approaches to spirituality at the California Institute of Integral Studies while completing an M.A. in Philosophy, Cosmology and Consciousness. He was subsequently awarded a Graduate Fellowship at Tulane University where he was able to further study Buddhism, Heidegger, Nondual Awareness, and Personal Transformation while earning a second M.A. and a Ph.D. in philosophy. He currently teaches university courses on Buddhism (including meditation instruction), Asian Philosophy, Philosophies of the Self, and Happiness and Human Flourishing (applied positive psychology), and Service Learning.
Outside of academia Dr. Gruenig has intensively studied, taught courses on, and offered coaching in a variety of wellness modalities. He has completed intensive Teacher / Facilitator / Coach trainings in:

* Executive Coaching - with Anne Durand at MentorCoach
* Positive Psychology Coaching - Intensive Coach Training with Jan Hill, Ph.D.
* Quality of Life Coaching - Master Training and Certification with Mike Frisch, Ph.D.
* Effective Communication - Intensive Training with Marshall Rosenberg, Ph.D.
* Gottman's 7 Relationship Principles - Educator Training with David Penner, Ph.D.
* The Work (Questioning Stressful Thoughts) - Facilitator Training with Byron Katie
* Buddhist Meditation - Teacher Training with Bhante Gunaratana, Ph.D.
* Zen Voice Dialogue - Master Facilitator Training with Zen Master Genpo Roshi

Hans has also attended intensive retreats and trainings in:
* Buddhist Philosophy - with the Dalai Lama, Nandamala Bhivamsa, etc.
* Insight Meditation - with Shinzen, Goenka, Jumnien, Yogavacara Rahula, etc.
* Nondual Awareness Recognition - with Tsoknyi Rinpoche, Adyashanti, Richard Miller
* Nondual Awareness Recognition - Intensive 9-mo. Training with Peter Fenner, Ph.D.
* Integral Life Practice - with Ken Wilber and the ILP staff
* Many other transformative learning courses and intensives such as Landmark Forum, Focusing Training with Focusing Resources, the First World Congress on Positive Psychology, and a training at Kripalu on creating meaningful workshops.
After years of personal practice and study, Hans started teaching meditation and complementary wellness practices after returning from India in 1999. He started offering integral wellness coaching in 2005. Over the past 15 years, he has been developing a synthesis of practices which integrate a spectrum of approaches to well being. He has taught university courses at graduate and undergraduate levels, coached executives, and offered a variety of workshops and courses at some of the largest and most respected yoga centers in New Orleans. He has also taught courses and workshops nationally and internationally -- including in Europe and Japan.
Selected Testimonials
"At the moment I am truly happy and have no doubt that my happiness will only continue to grow. I am indebted to Hans for this since he played an integral part in guiding me on my path towards discovering the meaning in my life. He has helped me navigate my path by meeting me where I am at and continually trying to understand and empathize with what is occurring in my life. Instead of trying to transcend humanity, he has taught me, through his actions, to embrace being human. Hans is a deeply appreciated friend and teacher whose expression of love is clearly seen through his thoughtful, caring actions."

-- John Gonsoulin, MD, MPH, (Integrative Mental Health Care)
"Hans is a wonderful teacher whose way of relaying ideas and concepts is remarkable. His meditation course was life-changing. The material presented in the class is very tangible and fun to work with. As far as the course itself, I can't say enough about how it has profoundly influenced the way I view my daily activities. Developing this moment-to-moment awareness has affected every aspect of my life. It has allowed me to navigate the complexities of the medical profession and to discover my true passion for integral psychiatry, caring for those who are suffering, and also maintaining compassion for myself and others. This has been one of the greatest gifts I have recieved in life. Thank you Hans! You've made this possible!"

-- Britt Themann, MD, MPH (Integral Mental Health Care)
"As a teacher of meditation, spiritual philosophy, and integral wellness practices, Hans is a master in his field and has been a blessing in my life. I first met Hans when I attended one of his meditation courses. I was so impressed with his knowledge, skill, and gentle nature that I decided to pursue individual coaching with him to help address my own tendencies towards anxiety amidst my busy life. As a coach Hans provides a calming presence, a safe and unique psycho-spiritual context for exploring thoughts and feelings, and valuable new perspectives and practices which are helping me to find greater clarity and peace in my life. His approaches sometimes involve thinking outside of the box, and while I found some of them to be challenging at first, Hans did not give up on me! Through kind and patient guidance, many teaching tools and healing moments, he has helped me to access awareness and insights which have increasingly enabled me to turn within, access my own wisdom and kindness, and make more enlightened choices when relating to difficult situations. I leave each of our sessions feeling more centered, serene, and better prepared to consciously and beneficially co-create the week ahead. I would recommend Hans's coaching to anyone interested in reducing stress and increasing their awareness, insight, and general satisfaction with their lives. He is a fountain of knowledge, a kind soul, and a wise and inspiring mentor."
- EMW, Ph.D. (Licensed Clinical Social Worker)
| | |
| --- | --- |
| | "I can't thank Hans enough for his compassionate support and insightful guidance. His coaching helped me tremendously during a particularly challenging time in my life -- and what I learned was truly transformational and continues to be of lasting benefit to me. Over a period of several months, my intensive work with Hans helped me to cultivate new perspectives and skills which gradually engendered a greater sense of well being and connectedness in all areas of my life. As we worked with and through various life challenges, I was amazed at some of the shifts that occurred. |
While Hans helped me to find greater peace and resourcefulness amidst some very difficult situations, he also familiarized me with new approaches in a way that left me increasingly able to practice the skills on my own. I must add that I particularly appreciated the way that Hans created an atmosphere of unconditional acceptance as he guided me with great patience and care. Our explorations opened up a dynamic approach to life which I have come to appreciate on a daily basis. While am still relatively new to this path and still have much to learn, I find that I am already experiencing more peace, joy, and connection in my daily life. I am profoundly grateful for these gifts, and I wholeheartedly recommend Hans's coaching to anyone seeking guidance on the path of inner transformation."
-- Tori Johnson, J.D. / LL.M. (General Counsel for Tulane University)
"Hans offers a phenomenal package and delivers it with intelligence, skill, and compassion. I think I gained more insight in the first half hour of feedback from Hans than I did in months of weekly coaching sessions with a rather expensive ($245 per hour) professional coach who was trained and employed by celebrity self-help guru Anthony Robbins. The difference was like night vs. day (or a 1-year certificate vs. a Ph.D.). Hans is the epitome of life-long learning and has integrated an astounding amount of knowledge over two decades of increasingly intensive study and practice -- applied philosophy, meditation, Buddhist psychology, personal growth paradigms, integral theory, diverse approaches to spirituality, nonviolent communication, and more -- and he brings all of these to his coaching work.
I worked with Hans when my life seemed to be falling apart -- nothing seemed to be going right and despite creating and executing 'massive clear action plans to transform my life' à la Anthony Robbins, the universe was not cooperating and I was painfully frustrated. Working with Hans was a revelation. He took time to listen carefully, refine an empathic understanding of what I was experiencing, and to convey insights in a language that made sense to me. He was very effective at helping me to discover, access, and integrate broader contexts and higher levels of thinking that I found helpful. I often found myself exploring "outside the box" with him, developing new skills and perspectives, and enjoying global paradigm shifts that freed me to find greater happiness on the journey of life rather than always feeling frustrated at unattained goals.
I have been positively impressed with his offerings. If you have been saying to yourself, "I don't know where to start or I don't know how to conceptualize what I need," then I'd bet that Hans has the breadth of knowledge to help you to answer those questions. Or perhaps you are thinking, "I really need someone who has experience. How do I know that this guy really has the skills needed to help me?" I would say that Hans has read more, explored more, and practiced more than anyone I know. In my experience Hans is the real deal and asymptotic approximation of the ideal coach. That's engineer speak for -- he's about as good as it gets!"
-- Susan Wheeler, Engineer
"There are very few people in this world who are as skilled as Hans is at listening, digesting, and suggesting. Frustrated with years of 'almost', I began formal coaching with Hans two years ago after several years of informal dialogue. His mix of otherworldly patience and penetrating insight, gently delivered, has been of great help. Professional life in technology is chaotic by nature, and I've benefited significantly from Hans's clarifying input on a variety of issues -- from creating a more productive routine to making and moving past thorny decisions. His coaching was instrumental in my recent success in increasing focus and productivity during an extremely demanding period in which the success of my company was on the line. I am thankful for his insight, and recommend Hans's coaching to those willing to try for higher throughput through clarity."
-- JDG, Chief Technology Officer